THE FASTEST WAY TO GIVE YOUR BODY
HEALTHY MAGNESIUM BEFORE BED
We made this spray to make improving your health and nourishing your body with healthy magnesium simple, safe and fast. Right now we're offering up to 20% off our best-selling EASE (magesium spray).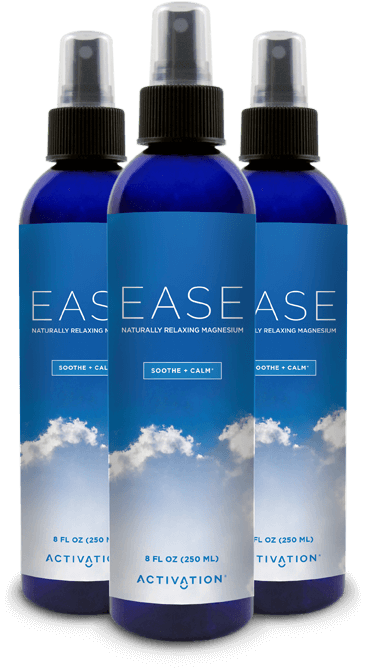 Introducing
A First-of-its-Kind Spray
Helping over 50,000 People Sleep Better, Feel Less Pain & Relax Right Now
EASE is the most efficient magnesium delivery system available. It contains the most readily absorbed form of magnesium in existence.
EASE is sprayed onto the skin for immediate absorption without digestive upset.
Each spray contains approximately 25 mg of magnesium to completely restore healthy magnesium levels and aid in calcium absorption.
EASE goes to work in under 90 seconds, giving you powerful and fast relief from muscle/joint pain, stress and sleep issues. Over time, low magnesium levels (something over half the population suffers from) can be completely eliminated, which will have substantial long-term health benefits.
EASE has over 50 health benefits and supports over 600 functions in the human body. It also addresses a growing health problem in our society – not enough magnesium in our diets. No matter who you are, you will have your life improved by this spray.
100% all natural magnesium solution sourced from the Dead Sea
Magnesium is nature's deep sleep mineral
Relaxes muscles, de-stresses your brain and helps you sleep better
Safe for children, adults and even pets
Over 152,000 bottles already shipped to people around the world
How Does EASE Help With Sleep?
EASE helps you sleep because it's an effective way to give your body a natural supply of magnesium each day and night. Magnesium naturally activates neurotransmitters in your brain that reduce stress and relax muscles. Your body transitions into a deep state of calm, and you fall asleep faster and stay asleep longer.
Magnesium in EASE optimizes sleep cycles by controlling the release of melatonin before and during sleep.
Just like popular sleeping pills, this mineral aids neurotransmitters (GABBA receptors) that reduce unwanted nerve movement during the night.
Powerful magnesium even helps suppress hormone and mood disorders like stress and sadness that inhibit quality sleep.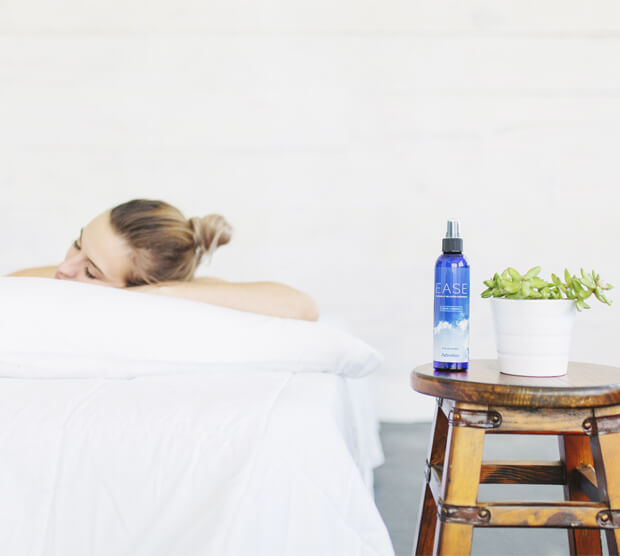 More Benefits of EASE:
EASE does way more for your health than just improve your sleep! The mineral inside each spray bottle also helps remedy...
Pain — 90 seconds and your pain disappears. Magnesium is one of 18 minerals that play a major role in your joint and muscle health. How does it soothe stiff painful joints and muscles? That's thanks to its ability to reduce swelling and boost your natural healing timeline.
Stiffness — Magnesium is responsible for keeping your muscles and joints limber and flexible. Magnesium fights lactic acid build-up, which causes your muscles to become tight and sore. It also fights calcium build-up, which causes joints to become stiff and immobile.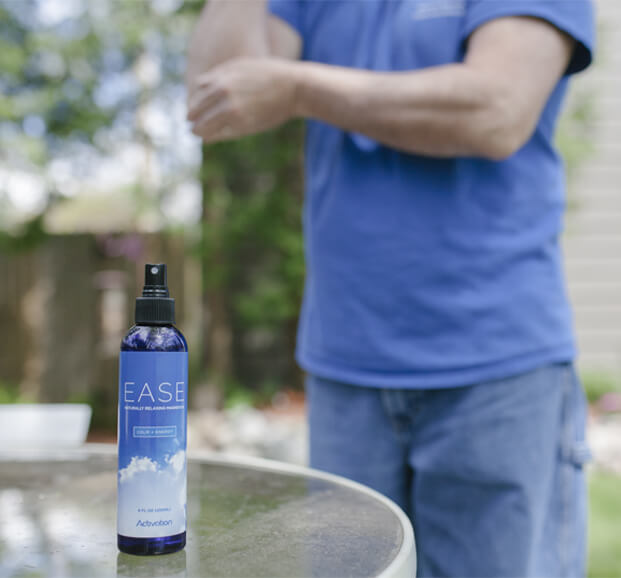 Stress — Magnesium has a calming effect on the mind and body. Studies show it's an effective natural remedy that you can use to reduce feelings of stress quickly. Working with your nervous system, this mineral (that each bottle of EASE supplies you with) lowers stress hormones like cortisol and adrenaline. On the flip side, magnesium deficiency (not getting enough of this mineral) is linked to spikes in these hormones.
Balance — Magnesium balances the calcium you get from food and water. Magnesium and calcium need to be balanced. If they're not, your body moves into a state of over calcification. Over calcification lurks behind a lot of unnecessary health problems.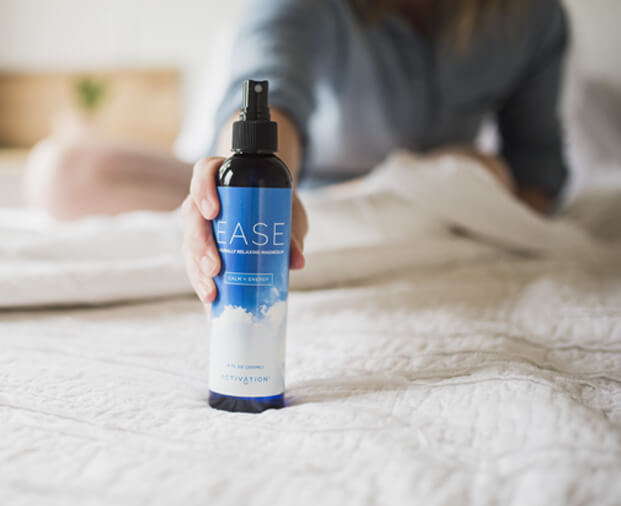 Do I need EASE?
The short answer is that most Americans are very low in magnesium. EASE can help you make sure you're not one of them. Below you'll find a brief presentation (4 min) about how low magnesium could be affecting you on a daily basis.
WHY IS EASE BETTER THAN OTHER FORMS OF MAGNESIUM?
Simple Ingredients
EASE is a natural solution of pure water and magnesium chloride hexaydrate — sourced from the Dead Sea — known as iMCH. There are no synthetic additives or preservatives like those you'd find in most rock-derived magnesium formulations.
Safer Absorption
Magnesium pills and powders are extremely taxing on your digestive system. You can cause serious damage by ingesting magnesium in large quantities. You risk diarrhea and even kidney problems taking magnesium this way. Unlike oral Magnesium (pills and powders) or hospital injections (needles) you can't overdose on transdermal skin magnesium application because your skin only takes in what your body needs.
Better Absorption Than Pills/Powders
Your skin absorbs magnesium better than your stomach. A growing body of research shows that magnesium sprays applied to your skin work far better than oral supplements. EASE is a safe, side effect-free way to get more magnesium daily and fight things like bad sleep, stress and stiffness. It's a 100% pure product that contains only 2 ingredients.
Magnesium From The Dead Sea
This is the same magnesium you'll find in the Dead Sea and it has been on Earth since its creation. It is 100% natural, purified and healthy. The Dead Sea is visited daily by people around the world wanting to soak in its concentrated, mystical (some would even say sacred), magnesium-filled water.
The magnesium in EASE is the same you'll find in that special body of water, except for one IMPORTANT difference — the magnesium we use has gone through extensive purification processes. It's completely free of all pollutants, heavy metals, toxins and even other minerals. The raw magnesium we use is so pure it qualifies as 'pharmaceutical grade' magnesium.
Spray EASE on after a shower, before bed or anytime you're feeling stiff, sore or stressed
Your skin soaks it up within 90 seconds and the magnesium does the rest.
Remember, the powerful magnesium in EASE alleviates...
Joint pain
Muscle aches
Cramping
Stiffness
Stress
Restlessness
All within seconds!
And it does it all naturally using the mineral that nature has made available to our bodies for these problems.
Most importantly, spraying your body with EASE just a few times a day will help restore your body's magnesium levels (the root cause of many health problems). Seriously, I encourage you to type "health benefits of magnesium" into your search engine. The studies and lists you'll find are staggering.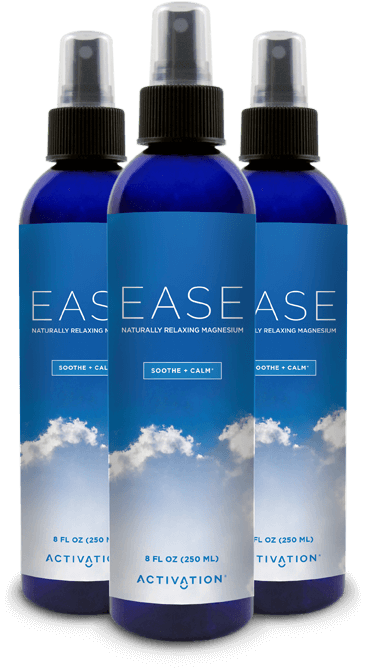 Your body really does rely on this mineral for so many functions and if you are experiencing bad sleep, stress or discomfort night after night, chances are you are not getting enough of this master mineral!
This is the reason that EASE is so popular.
"I have been using this MAGNESIUM Product for the last 2-3 months. I was having severe leg cramps every night. The first three days of using this magnesium they totally were gone. I continue to use this everyday and I have not had a leg cramp since. I know it does all kinds of good stuff for my body and will NEVER stop using it. Thanks for a WONDERFUL product!!"
— Elaine H.
"I never would have thought Ease could help as much as it has. I started having problems sleeping and eating right after my husband passed away. I started using Ease twice a day and within just a few days I started sleeping through the night again. I also know if I miss using Ease my sleep is not good until I get back to regular use."
— Barbara M.
"I ordered one bottle back when you first started promoting it. I have to say I really love it and noticed that I sleep better and my stress levels go down. I am able to focus better especially with having four young ones to take care of. Thank you."
— Marylin B.
"Years ago I suffered from extreme pain and sleep deprivation caused from my right hip.The first night I used EASE I experienced dreams for the first time in years. I am 73 years old and a golfer. I was ready to give it up because of the pain I had each time I played. That has also gone away! I talk about EASE to anyone who will listen and know of several people who are using it because of my enthusiasm. Thank you!"
— Nick B.
100% pharmaceutical-grade magnesium from the Dead sea
Safe for children, adults and dogs
Over 152,000 bottles already shipped
Magnesium improves your sleep and encourages a sense of relaxation and calm
Magnesium helps cramps disappear, muscles relax and joint pain fade
Within 90 seconds, it goes to work where you need it most
Spray EASE on before bed for a great sleep
Within a few moments of EASE hitting your skin, your body will start responding positively.
Thousands of people have already uncovered this easy way to sleep better… have you?
This is by far one of the easiest ways to naturally restore your bodies mineral balance with a specialized form of soothing magnesium that your body loves!
The magnesium found in this unique spray provides your body with over 50 health benefits and has more magnesium than you'll be able to get from nearly any food on the planet!
We have shipped over 152,368 bottles of this sleep spray to happy customers and changed their sleep for the better!
If you want a bottle and the chance to experience this special magnesium spray, then right now is the time to act.
Click "Rush My Order" below.
You'll be happy you did in the morning.
Experience the miracle of EASE magnesium for yourself!
Celebrated and used around the world for sleep, stress and pain!
Start Your Order Below.
The More You Buy, The More You'll Save
1 Bottle
$39/bottle
Retail

MOST POPULAR
3 Bottles
$33/bottle
Save 15%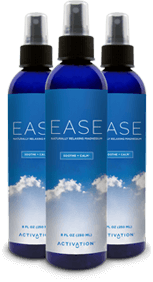 BEST VALUE
6 Bottles
$31.50/bottle
Save 20%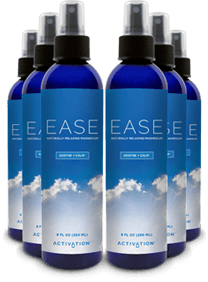 Happiness Guaranteed
Don't worry! You are completely covered by our satisfaction guarantee! We won't make you pay for anything that you aren't 100% happy with.
Our 60 Day money-back guarantee is there to protect you. So if you aren't thrilled with your order just let us know and we'll refund you the full price of any bottle(s) you ordered without any questions asked. There's literally no risk to ordering today. Grab a bottle and give it a try.
Frequently Asked Questions
Is EASE okay for my skin?
EASE is great for your whole body, including your skin. We do always recommend spot testing whenever trying a new product, however most people report softer and healthier skin after using EASE.
How big is each bottle of EASE?
Each bottle of EASE contains exactly 8 ounces of pure, bioavailable magnesium. 1 bottle of EASE, used every day should last you one month.
What makes EASE the highest quality magnesium supplement?
EASE is made from pure, all natural iMCH™ sourced from the Dead Sea. It's some of the most effective, most bioavailable magnesium in the world. iMCH™ is the most biocompatible version of magnesium because of its ability to be quickly absorbed transdermally (through the skin) and used by your cells.
Since your skin is your biggest organ, it allows for the highest level of absorption without taxing your digestive system, liver or kidneys.
Oral magnesium supplements are poorly absorbed and can wreak havoc on your gut, often doing more harm than good. They also take longer to take effect.
How long do I have to wait before I feel EASE working?
Unlike other supplements, EASE begins working almost immediately. Within minutes of spraying it on your skin, you'll begin to feel its powerful soothing effect.
Using EASE consistently on a daily basis will reverse your deficiency over time.
How much EASE should I use per day?
We recommend 30-40 sprays daily (depending on your level of deficiency and your sensitivity to the product).